I just finished a pair of socks for me! I used Wool-ease variegated.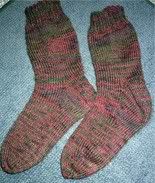 I decreased slowly around the leg to form fit them to my leg and they fit like a glove. Of course I started right away on another pair for myself. I will be using a solid color and doing a pattern in leg.
Dear Grandbaby was here and she had to model my scarf/hood.