I ordered a set of round knitting looms and they arrived yesterday. I knit a baby hat yesterday afternoon using one!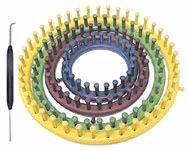 We got lots of snow! Sun is shining and it looks so pretty.
Yesterday the mailperson knocked on my door and delivered 2 boxes of baby yarn! I got them from a sweetheart of a blogger called Knitting Nyxxie! The hat I knit yesterday was from the gift. FiberRAOK is a wonderful group of knitters.
*Note to self.....
I really have to get my camera out and take some more knitting pictures
......