Merry Christmas
from
Feeling better today. I went to Dr. and found out it was not strep but I have a rhinovirus on my uvula and larynix. I have to take an anti-inflammatory and gargle with some numbing stuff. I am taking it easy to get all better for Christmas.
I finished lt.gray wool socks for hubby and started a pair of mittens for him to match the hat I knit him earlier. I am still knitting my socks. I bought yarn to knit socks for my son but I don't think I will get them done by Christmas. Maybe if I knit all the time and stay off the computer I could do it.
I made some new buttons for you to steal for your website to link to me. Please save them to your own computer.
See on right under Take These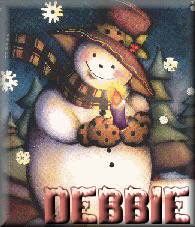 Wonderful Signatures from my talented friend Inez!